Spice Story Nolen Gur
100% Natural Patali Gur from
West Bengal Liquid Date Palm Jaggery
Khajur Gur Sweet,
Pure Natural Gur Jaggery
No Added Sugar,
No Preservatives

FRESH INGREDIENTS: The Spice Story Nolen Gur, is liquid date palm jaggery in it most natural form. Its pure Patali Gur without any adulteration. Nolen Gur or Jhola Gur is also known as Patali Gur, is made out of the sap extracted from the date palm tree. The sap is then reduced patiently to a gooey consistency to create its sweet and nutty flavor.
Why Spice it up with

Spice Story
Magical Recipes

With Spice Story
#EndOfBoring
Consumer

Speak
The good words that cheer us up, enliven our spirits, and make us do more
" It all started the amazing mint chutney, which was really yummy. Now we have ordered other ones and my entire family has developed a liking. Strongly recommended!!"
- Hiral Mehta
"I recently bought Super Mango Mustard Sauce and it came out to be just perfect. The smell and taste reminded me of our childhood days... great going!!!"
- Ray Mina
" This is amazing, the taste lingers in your mouth for a long time... It's hot its spicy and can be used in many dishes.. You must try it out I am sure you will make it your permanent kitchen companion "
- Rakhee samsi
"Awesome and authentic tasting sauces... True to the promise... Kolhapuri Jhatka especially so... If you want fiery hot stuff, don't think there's anything better..."
- Srideep Kesavan
Our

Story

Every good story has some irresistible elements, like well-crafted drama combined with a sophisticated version of classic climax. It keeps us at the edge of our seats, eagerly waiting for the final action.

It is the same with good food. It engages all your senses. You cannot wait to savour the next taste as the flavours explode in your mouth, starting with your visual and olfactory senses. Although it never lasts, but assures you a special moment you will long for, once again.

Our venture into this immersive food saga is very simple. After reading the book 'Stay Hungry, Stay Foolish', our foodie heart and a bibliophilic mind zinged us to choose our motivation. We believe it's much easier to stay foolish than to stay hungry. What else would you expect from food lovers?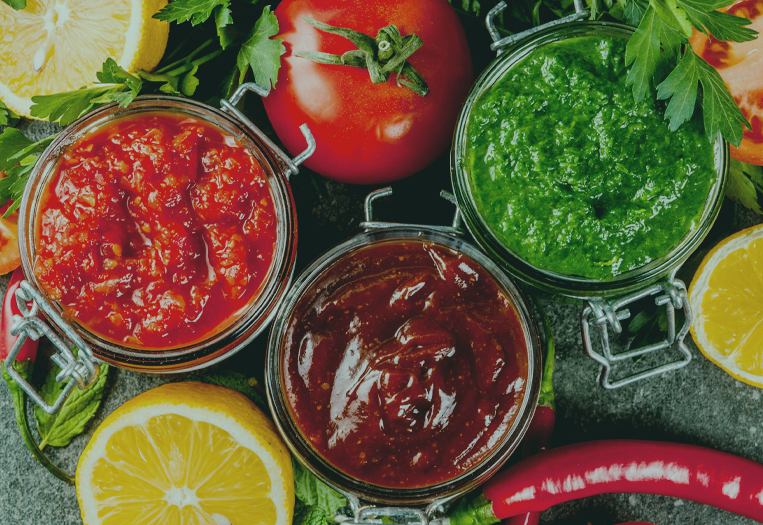 Blogs
As Indians, many of our stories and memories are built over food. India's countless versions of chutneys are indeed the cherry on top for the best of occasions.
Read more